Restaurants & Bars
A palate pleasing mixture of international dining options await you at Krystal Grand Cancun all without reservations required. The food is one of the distinctive features of Krystal Grand Cancún Resortl. The resort offers 5 restaurants, beach bar grill, terrace lounge and several bars on Boulevard Kukulcan.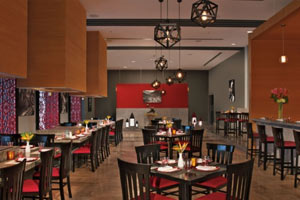 Ayami restaurant
Asian Cuisine
A corner of Asian cuisine to enjoy the most carefully prepared Oriental dishes. Enjoy one of the best Asian menus throughout Cancun from 6.30 pm to 10.30 pm hours. Reservation required.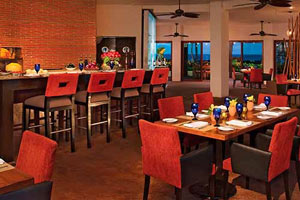 The Grill
BBQ
At the Grill, a variety of meals and cuts of meat await you thanks to its joyful mix of cultures. We proudly offer barbacoa — a slow-cooked meat prepared with traditional Mexican techniques — and an Argentinian barbecue that will captivate you.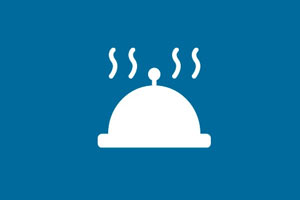 El Mortero Terrace
Mexican cuisine
Experience ancestral culinary techniques and savor pre-Hispanic ingredients at our Terraza El Mortero restaurant. Here, we offer contemporary Mexican cuisine with traditional flavors. Our culinary tour full of avant-garde dishes will take you on a journey through all of the flavors and regions of Mexico, as you enjoy a festive atmosphere and live Mariachi music*. *Mariachi is subject to availability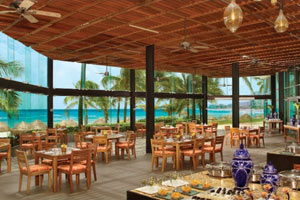 Restaurant O
breakfast
The unique dining experience at our O Restaurant will delight your taste buds. Indulge in our breakfast service, which includes freshly baked homemade bread, snacks, fresh fruit, and much more!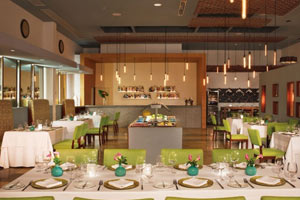 Italian Risotto
Italian
An atmosphere of complete sophistication and elegance surrounds you at Risotto Restaurant, as you taste the traditional Italian cuisine with a contemporary twist.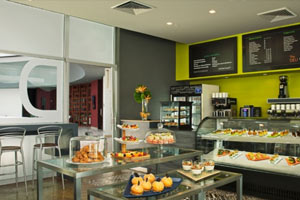 Take a Bite
Snacks and Coffee
The delicious scent of coffee flowing from Take a Bite is sure to attract you. Located in the main lobby, this is the spot to enjoy a wide selection of sandwiches, bagels, salads, delicious desserts, ice creams and aromatic teas.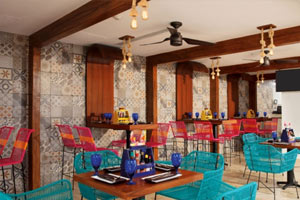 Red Fish
appetizers & refreshing cocktails
Savor special ceviches, appetizers, and refreshing cocktails next to our main pool at Red Fish, where you will experience a peaceful and tropical atmosphere. Enjoy, indulge, and order another drink.
The Beach Bar & Grill
Bar & grill
Feel the Caribbean breeze while you enjoy delicious burgers, a special selection of ceviche, grilled specialties, and refreshing cocktails. At our bar boasting beach access and palm-thatched canopies, we love to spoil our customers.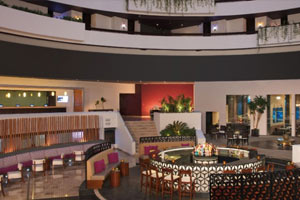 Lobby Bar
Krystal Grand Cancun Lobby Bar.
You are always welcome at the Krystal Grand Cancun Lobby Bar. Take a moment to enjoy our variety of beverages and cocktails available in a wide selection of flavors. Music fills the air at this ideal spot to begin a grand, fun-filled day.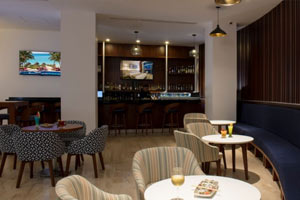 Altitude Club Bar
Exclusive Bar
Exclusivity and stylish Premium cocktails are waiting for you at the Altitude Club Bar. Located in the Altitude tower, the views of the sea and the pleasant atmosphere will make you feel very special.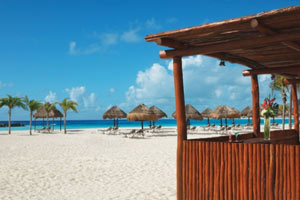 K bar
Beach Bar
Cool off and indulge in the best drinks at our K Bar. Fascinate your palate with the vast array of flavor and colors.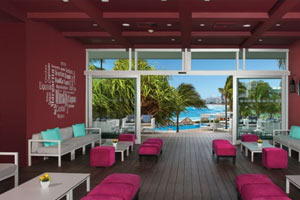 The Lounge & Terrace
Lounge BAr
Experience the sophisticated atmosphere of your dreams at "The Lounge & Terrace". Admire sensational views of the pool — lined with swaying palm trees and lights — as you savor a delectable cocktail.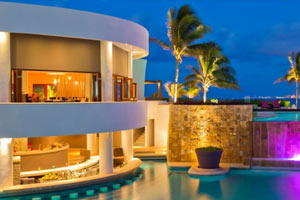 The Pool Bar
Swim Up Bar
Enjoy sweeping views of the swimming pool while you sip on a delicious cocktail. Experience the best of times as you relax here.